Looking to easily advertise your brand or product? Look no further as Instagram Marketing is the best way to gain followers, likes and awareness for your brand! This guide offers the best Instagram campaign ideas to inspire you to start your own campaign, successfully used by businesses on Instagram.
Let's face it, small businesses have little to no budget for paid advertisements. Not only that, it also does not guarantee sales or followers! Instagram can be used to grow your engagement organically- this means that it can cost little to none to start your campaign!
Thus… If you are not already using Instagram, you bet your competitors already are!
Instagram Business Account
To start a campaign on Instagram, you would first have to have an Instagram account, or even better, an Instagram business account. With this, you are able to access insights and track your campaign results in real-time! Start a business account with this guide!
Plan a Campaign Strategy
Before you even dive into starting one, your brand has to draw up a campaign strategy. A strategy involves exhaustive planning of goals, budget, target audiences, execution, message… etcetera.
Plan and propose an Social Media Campaign for your brand with this guide:
If you're here to view some amazing ideas businesses have used, sit back, relax and brainstorm with these ideas below!
Instagram Marketing using Hashtags
Instagram Hashtags are one of the best organic marketing strategies you can have on Instagram with little to no budget. Campaigns that were the most successful involved user-generated content. This is done by successfully using hashtags to promote their brand or product.
So… what exactly is an Instagram hashtag?
It is a string of words, letters and numbers used to categorize content on Instagram starting with a # symbol. Popular and famous hashtags examples are #love, #like4like, #ootd and #dogsofinstagram. Hashtags allow Instagram users to search and follow similar content and can be used in your bio, posts and stories to promote and garner attention.
When using hashtags, you should consider several factors such as relevance (Instagram has a related hashtags feature), competitor's hashtags, target audience's hashtags to place in your posts. Hashtag pages are hashtagged content neatly displayed in a feed format. It includes a Top posts Tab and Recent Tab. Hashtags are a great way to expose your content to new audiences.
Branded Hashtags
The best hashtag you can use is a branded one. Branded hashtags are specifically created for your brand and can be used to drive user-generated content. This is when you encourage users to post their own rendition of your crafted branded hashtag.
Hashtag Campaigns by brands
Uber's #Backseatview
Uber, a ride-hailing company used the hashtag #Backseatview featuring beautiful images from around the world from the backseat of an Uber ride. This created visually stunning clickable and shareable content, connecting users from around the world. Uber combined their social media campaign together with an incentive to riders when they share their own #Backseatview.
Calvin Klein's #MyCalvins
A successful example of a branded hashtag is by Calvin Klein. Their brand uses the hashtag to promote their iconic apparel with the hashtag #MyCalvins. This prompted user engagement where they encourage people to post "vintage" and "throwback" pictures of them in their Calvin's. It generated over 829,820 tagged posts and reached a global audience of more than 469 million people. This shows how successful branded hashtags can potentially be!
Susan Boyle's #susanalbumparty 😵
Remember to make sure the words in your hashtags can be easily made out even when they are formed together or you would potentially have a PR disaster at your hands. Evident by the unsuccessful campaign for Susan Boyle's album release party, using the hashtag #susanalbumparty.
Amazon's #Amazonshitcarshow
Or you can be adventurous and play it as humour like Amazon such as the hashtag for Amazon's Hit Car Show, #Amazonshitcarshow. This ambiguous campaign is obviously not suggested but it can spark an idea for your campaign. Watch how they came up with it below!
This campaign resulted in both positive and negative reactions, but all Amazon needs is the added attention… because who doesn't already know Amazon?
Influencer Marketing in Instagram Marketing
When you think about Instagram, you think of Instagram Influencers or celebrities where brands often use their platform for promotion. Instagram is the preferred choice of micro-influencers where 59% of them say it is the most effective platform for engagement.
This provides brands and businesses with a massive potential reach by using Influencers or Celebrities who already have a huge following on Instagram. Influencers are the epitome of Instagram advertising deriving the bulk of their income off collaborations and pictures they post. Instagram influences almost 75% of user purchase decisions where they make a purchase after seeing something on Instagram.
Being an Influencer does look and sound glamourous! If you are wondering how to become one, you can check out this article on Instagram Influencers.
Influencer Tags
Instagram makes a perfect platform for brand ambassadorship. This allows companies to focus a lot on Influencer Marketing. To start a basic influencer marketing campaign, brands should first look for the right influencers to portray their products.
There are specific types of influencers that brands use based on their needs. Influencers have high engagement rates and stronger relationships with users compared to celebrities.
Product Placement
Product placement is basically hidden advertising. It is when products are seen in a post but are normally not the focus. Placements use advertising that does not seem like advertisements and has been proven to work. It is regularly used in movies, videos and social media platforms.
Instagram influencers use product placement on their posts and stories where they convince users as a form of recommendation or products displayed in the background. Placements are used to let users notice products these influencers apparently "use". Product placements must be used in conjunction with the image that the brand and influencer portray.
Influencer Marketing by brands
Lululemon
Lululemon 'partnered' with an influencer yogi, using product placement which is the clothes he uses to do yoga. This post was then re-posted by Lululemon's main Instagram page and is a good example of brands using product placement in influencer marketing.
Endorsement Marketing
Endorsements generally use big-time celebrities. It is easily be mistaken as an influencer marketing strategy. However, it is effectively just a celebrity endorsement where brands appoint ambassadors for their brand. It is a form of associating celebrities fame to the brand.
An endorsement is a great marketing strategy that brands should adopt. But… they are generally accompanied by a hefty price and is used by brands who already have a big standing in the business. Studies show that consumers recollect products better which have been endorsed by celebrities
Influencer and Endorsements by brands
Calvin Klein
Calvin Klein is that good at their Instagram marketing, mentioning them again still does not do them justice! They combined different strategies to execute their marketing campaign. This includes hashtags, influencer tags and celebrity endorsements shown. The results of their marketing strategy reflect the effort and success of their campaigns.
Nike
Another example of an exemplary Celebrity endorsement would be from Nike. Nike always partners or endorses athletes such as LeBron James, in line with their brand of selling athleisure products.
Instagram Contests
Instagram contests are campaigns to "nudge" users to engage with your brand and is not affiliated with Instagram. Contests are highly effective in getting user-generated content. These contests are basically give-aways. Posts that mention "Giveaway" or "Win xxx" attract people like moths to a light!
Not only that, it is also very simple to set up a giveaway contest. Here are some examples of types of giveaways/contests your brand can do!
Seasonal Giveaways
Brands hop on to holidays or trends and use it as a chance to capitalize on them!
Follow, Like and Share Contests
These contests generally includes a prize to win if they like, share, follow your posts or brand. There are many variations where they have to tag friends that they want to win with!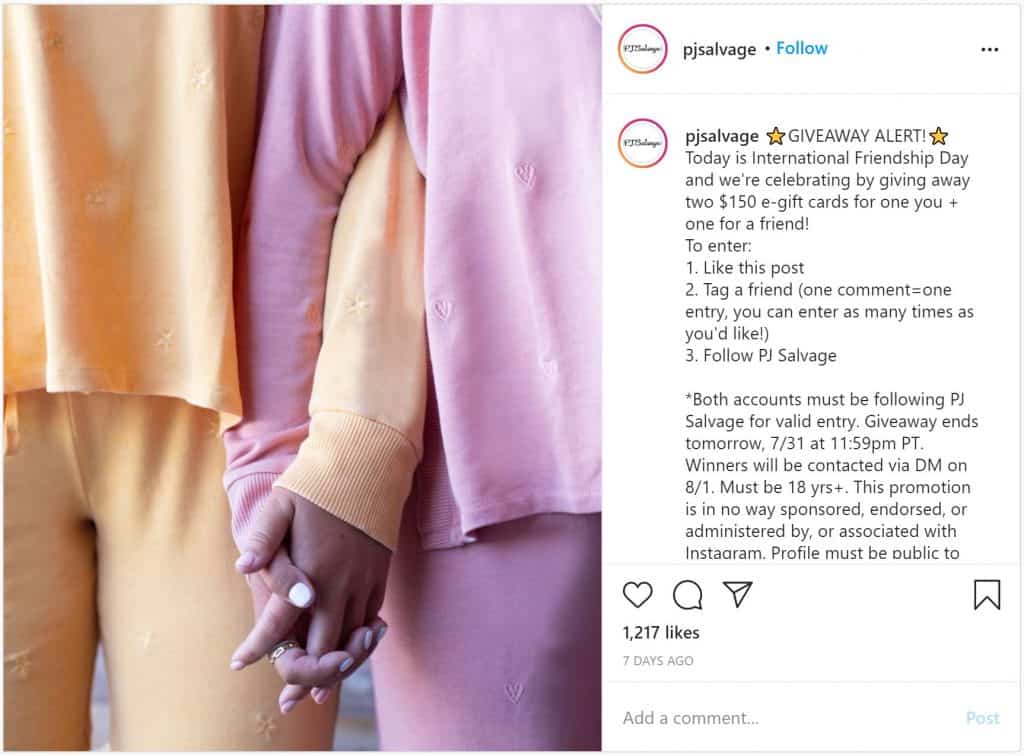 Branded hashtag contest
Contests can include branded hashtags to increase engagement or start a trend.
Brand Collaborations
Last but not least, brands can collaborate with other brands that are similar or relevant to your business! Your campaigns can use this chance to increase your exposure on the platforms of others, to expand your audiences.
Tips for Contest
Contests are great, but they can be tricky as well! Here are some tips before you start one!
Schedule regular giveaways – If users know that you have regular giveaways, it increases the chance of them following you or keeping up with your brand often. This drives click-rates and conversion rates as well!
Drive traffic to your website – Instead of contests being solely on social media, you can use it to encourage users to visit your website to enter the contest.
Prizes must be what users want to win! – Giving away prizes that are not related to your brand or prizes that people don't even want is a big no-no. Airline company Qantas made this mistake by offering a Pajamas Set as the winning prize. It was unsuccessful as it seems that no one wants a PJ!

Now that you have finished reading this…. its time to craft your own! Hope these campaign ideas and examples give you an amazing boost of creativity and maybe.. make the headlines as the next best campaign on social media!