Let's be real, being an Instagram influencer sounds pretty cool.
Making a living off collaborations and pictures of yourself sounds like a far-fetched dream for the regular user. Well, it turns out that starting this as a career proves to be fairly simple. We've done some insider research and we're ready to share all the secrets that we've found.
First of all, though:
What is an Instagram influencer?
An Instagram influencer is a creator who shares content revolving around a specific niche. Popular topics range from lifestyle to food, but any niche can grow a following if done correctly. The types of content are usually in the form of photos, videos, as well as live-streaming sessions.
The number of followers for Instagram influencers vary. People tend to look at an influencer's personality and relatability, so authenticity is most important. Fans show their love by interacting with an influencer's posts and stories, which counts as engagement. Influencers with more engagement gets noticed by brands and other users easily.
Sounds like a dream career?
Find out how you can get started.
How To Become an Instagram Influencer
As mentioned above, engagement is one of the key factors of becoming a successful Instagram influencer. There is a lot of effort to put in before people are able to notice you, though.
Let's break it down:
Visuals: How people see you and your content matters.
Marketing: Instagram rewards those who play by their rules.
Networking: An easy way to reach a bigger audience.
Read on and follow these strategies to find out how you can start, correctly.
Choose Your Niche
A niche is basically a topic that your content will revolve around. This means that you will be basing your career off this topic, and it'll be something that you will post about regularly. Therefore, it is important to choose a niche that you're passionate about. Make sure that you have an interest and knowledge in the topic so that you can come up with frequent content about it.
Identifying a topic can be difficult, though. You might have many different interests, and narrowing it down to only one seems impossible. So, don't be afraid to expand your niche to be a mixture of different things. Many Instagram influencers combine different interests as part of their niche.
Here is an example of an Instagram influencer, Janni Olsson, whose Instagram page revolves around lifestyle, food and travel: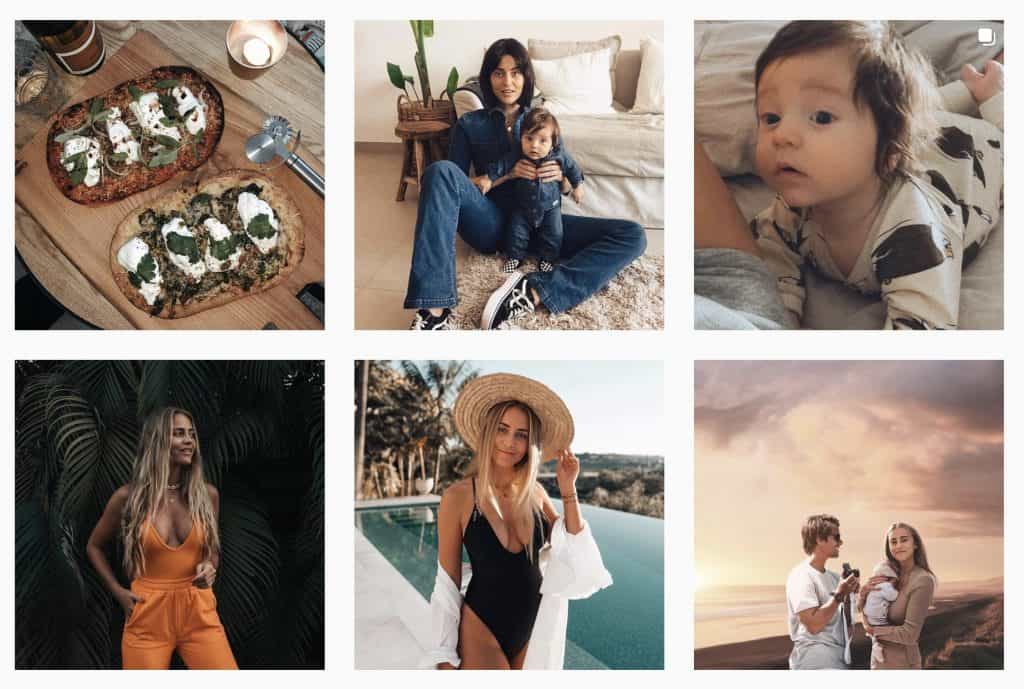 And here is another popular Instagram influencer, Ashley, who shares about her interests in fashion and art:
Once you have chosen your topics of interest, you can start brainstorming on the content that you are going to post.
This brings us to the next secret:
Consistency is Key
Regardless of what you are going to post about, it is important to stay consistent. Instagram rewards users who post regularly.
A higher frequency of posts leads to boosts on engagement rates, as your posts will more likely show up at the top of your followers' home page. There is a higher chance that your post will appear on the Explore page, too. This means that you will always be at the top of mind with your followers.
With this being said, we suggest that you come up with a schedule to plan your Instagram posts. You could share a new post everyday, or alternate between a post and an Instagram story every other day. We also encourage you to explore videos, live-streaming, and the IGTV feature. Alternate between any of these every day (or according to your schedule) to ensure that you remain consistent.
Whatever it is, as long as you have a plan, you are definitely on the right track to becoming an Instagram influencer.
How to Get That Instagram-Influencer Feed
Here's the thing.
If you've made up your mind that you want to become an Instagram influencer, chances are, you've already come across several accounts of said influencers.
You have also probably seen their Instagram feeds, where all their photos look beautiful, collectively and on their own. Then, you wonder: How?
First off, as with most things Instagram, you would need an image to post. The photo can be of yourself, or anything that is related to your niche.
Image Quality
Try to keep your images large. We suggest having them at least 1080 pixels wide. This is because Instagram recognises large photos as high-quality, and there's a rumour that this helps with the algorithm, too.
Other than that, users love pictures that are high quality. They are more likely to interact with posts that look good. Images that have clear contrasts almost always beat those that are dimly-lit and dull.
Once you've got that secured, it's onto photo-editing. You can do basic photo touch-ups on Instagram itself, and even choose from their set of default filters. But if you want to be an Instagram influencer, you'll have to go beyond to stand out.
Instagram Feed Themes
Most Instagram influencers choose a theme for their feeds. There are many different types of themes, such as stylistic choices (example: minimalistic), and colour-coordinated ones.
Peek Stella Maria's colour-coordinated Instagram theme, where she sticks to cool-toned neutrals to keep her feed clean.
In order to do this, editing the photo is as important as taking one correctly. Photo-editing applications like Lightroom or VSCO provide filters and settings for you to play around with. You can choose a filter that you like and apply it to all your images for a consistent look. You can also alter colours on your pictures individually using the selective-colour tool.
Playing with lighting, or keeping to a clean white theme are also different ways you can base your theme on. Regardless of what theme you go for, the key is to remain consistent throughout all your images, both individually and collectively.
An Instagram Influencer Builds Their Community
You read that right.
With the glam of a beautiful theme, as well as the constant stream of followers trickling in from posting everyday, you're on your way to becoming an Instagram influencer. You'll start seeing users liking and commenting on your posts. That's great! The end goal was engagement, right?
Well, right, and wrong. While getting engagement is good, it's as important to maintain or constantly build upon it to remain relevant. You want to build a devoted community where followers are more likely to engage in your content regularly and trust your brand.
Captions are a great way to start conversations with your followers. An easy tip is to add a call-to-action to your captions. You can do so by asking your followers to comment if they've had similar experiences to yours, or by asking them to tag their friends in the comments.
Here is Safiya Nygaard encouraging her followers to comment an emoji on her post:
This encourages your followers to join in on your community. However, when you're asking for engagement, you should also readily give it back. As much as possible, try to respond to your comments and form meaningful connections with your followers. Community-building takes two hands to clap!
Posting when you're most likely to get the most amount of engagement will greatly help, too. If you're using a Business Account on Instagram, you'll be provided with this information as well as a lot of other insights that will help you grow your engagement rate.
An Instagram Influencer's Secrets to Stories
Instagram stories is a great platform to share additional information in a 24 hour timeframe. However, there is more that meets the eye.
Many Instagram influencers use stories to get discovered and increase engagement.
When you add locations or hashtags on your Instagram story, users who are not following you are still able to find you through the tags. This helps you be exposed to a broader audience, and attract potential followers to your account. It's an easy, fun way to grow your network.
Other than that, stories gives you more opportunities to engage with your followers. You can set up polls, and ask them what you should wear for the day, for example. Letting your followers make decisions (no matter how small) in your life helps create a tight-knit community and fosters a sense of trust between you and them.
There are also many other features on Instagram stories that you can use to grow your engagement. There's a sticker where followers can ask you questions, and there are also questionnaires for them to test how well they know you. All these features help you interact with your followers and helps you build engagement and a community.
Remember that users love things that look good. Designing your Instagram stories with the help of applications might boost your engagement levels even more, too.
Becoming an Instagram Influencer
Yeah, becoming an Instagram influencer seems like a lot of hard work and effort. It is.
However, we hope that our tips and secrets have helped you strategise your game plan to become the next big Instagram influencer. Remember to pay attention to your visuals, marketing and networking efforts to drive your engagement. With consistency and effort, you'll get there in no time!