Planoly is an Instagram tool that claims to help draft, plan, schedule, and publish content.
Many have claimed that Planoly is their holy grail in managing their Instagram content. As with all things Instagram, we set out to find out if it's as good as people say it is.
If you're interested in managing your account easily and seamlessly, read on to find out how Planoly can help automate your Instagram account.
What is Planoly?
As mentioned, Planoly is an app that helps you manage your content by helping you draft, plan, schedule and publish your content. On top of that, they claim to analyse your profile data if you have a business account.
It was created with business owners in mind as the creators recognized the importance of social media marketing.
It helps you plan your content and feed with its easy-to-use visual planner. Planoly's auto-posting feature also saves you from having to set reminders everyday when you have to post your Instagram content.
All in all, it's an effective and efficient Instagram manager app that will save you a lot of time.
Planoly is available both on the App Store as well as Google Play. You can also download the software onto your desktop.
How Planoly Works
To get started, you just have to download the app from your Play or App Store and create an account.
It's that simple. Once you have an account, you can choose to link your Instagram page (but you don't have to) and start uploading your content onto the visual planner. Move them by dragging the pictures around and set them up for posting by adding your caption and hashtags.
Everything after that is self-explanatory. It's incredibly simple and fuss-free to use. Once you've set up your account, you can start planning your posts and receiving personalised analytics based on your account's data.
Planoly's Features
Planning & Auto-Posting Content
One of the biggest challenges we've faced in managing a successful Instagram account was scheduling posts. We've tried to set alarms and even download reminder apps, but it was distracting and often interrupted our days.
With Planoly, you can plan your posts through the visual content calendar grid. Simply add your media and drag it around to see where the individual posts look best. Once you're happy with how things look, you can add your post's description and hashtags. We love how easy and clean the feed looks. It almost looks exactly like Instagram's interface, which gives a clear picture of how your feed will look like.
You can also set your desired time to post. Planoly auto-posts your content for you so you won't have to do anything once you've set up your content. This is a unique feature that saves a lot of time and streamlines your Instagram management process. You no longer have to take time off your day just to post your daily Instagram content!
Make sure to check out their article for the guidelines on auto-posting. For example, your account has to be set as a business account and Planoly cannot help you post your Instagram Stories.
Stories Planner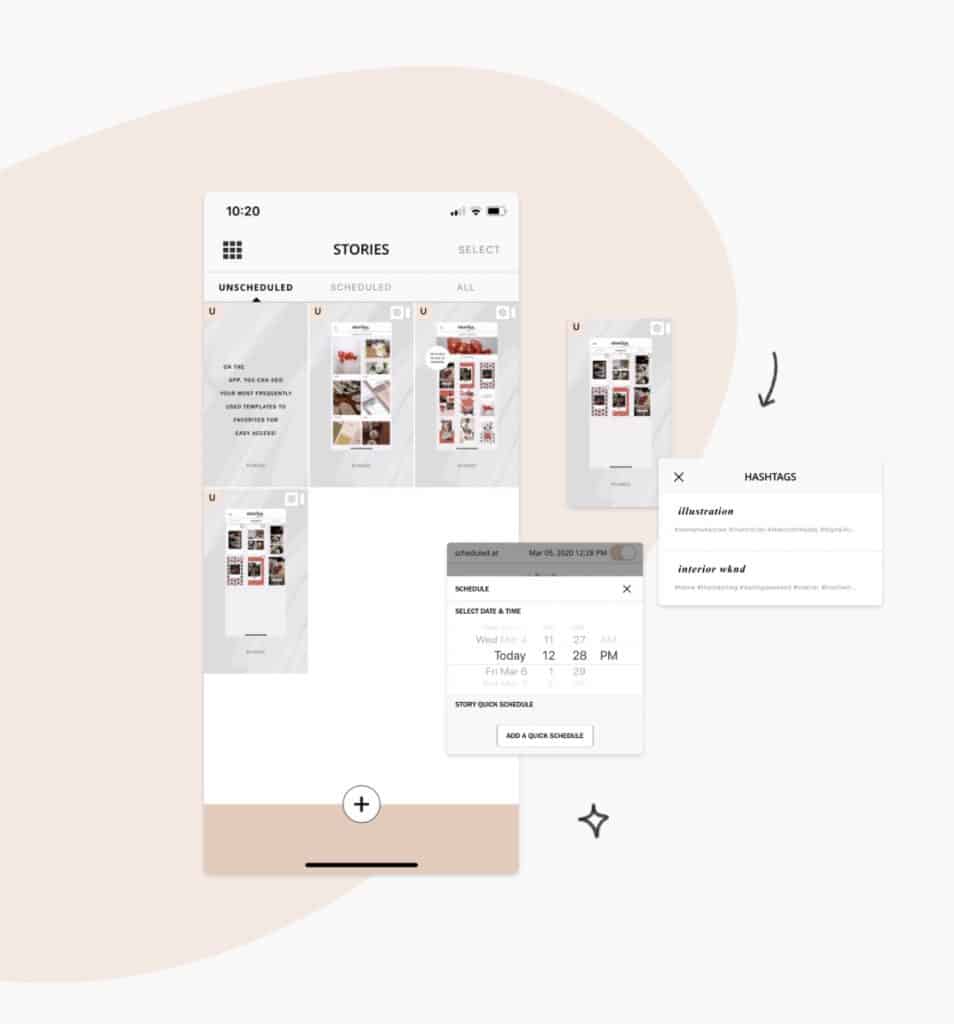 Although unable to auto-post your Instagram Stories, Planoly helps you plan your Stories seamlessly with their Stories Planner. You'll be able to visualize your Stories content before it goes life, acting like your very own personal storyboard.
You can also create folders for different Stories or campaigns, which is a pretty neat organization tool. This feature can greatly help you manage and plan your Instagram highlights, which is an additional win to us.
Other than mapping out your Stories and sorting out the order of them in the app (or desktop!), you can upload multiple Stories to your Instagram account at the same time. Well, again, you can't auto-post them, but we figured that this is the next best thing!
Analytics
If you have a Business account on Instagram, Planoly helps you analyse and track your page's insights. You can check your follower data and receive a report on your engagement numbers. You'll also be able to see your content performance and figure out which type of posts you're getting more attention for.
For a scheduler app, the analytics provided is incredibly useful and a great add-on to the service. With this feature, it makes Planoly the perfect, fully-featured Instagram manager app we know.
Web Dashboard
Planoly on desktop gives you access to essential planning tools like the web dashboard, where you can have an even more detailed view of your content. While the mobile application is great for visualizing how your feed will look like on your Instagram page itself, the desktop dashboard lets you see the whole overview of all your posts.
This includes a calendar where you can see all your scheduled posts, across the various social media platforms. If you're on a paid plan, you can also add in your team members to help plan and strategize your content.
Planoly Pricing
Always wanted to schedule Instagram posts for free on desktop or on your phone?
Well, good news: Planoly is free.
Yup, Planoly is completely free for up to 30 posts a month. It resets every month and is great for users who are posting about 6-7 times a week. The free plan allows you to plan and schedule posts for both Instagram and Pinterest (1 account per platform!), both at 30 posts each.
Of course, the free plan has a few limitations in terms of tracking metrics and comments, but we feel that it's adequate if you're starting out or you're not planning to spend much.
You can also upgrade your plan for increased perks, like unlimited posts or comment tracking.
For example, if you're a social media manager for multiple Instagram accounts, the Duo plan allows 2 Instagram-linked accounts with unlimited posts on both. On top of that, your colleague can also access the same account on Planoly, as the plan includes 2 user-access. This plan costs only $15/month, which we deem affordable.
If you don't need those extra perks, they also offer a Solo plan at $7/month. Need to set your own rules? They have a custom plan just for you which starts at $23/month.
With all these laid out, we personally feel that the prices are extremely affordable. For the value that they bring and the time you'll be saving, you'll easily get your return on investment every month.
Planoly: Final Thoughts
After all this talk, is Planoly really that helpful..? Is it worth trying the software out?
The simple answer: yes.
Planoly helps you automate many processes in managing your Instagram content, which saves you a lot of time. It also helps you organise your work flow and social media management, letting you perform at your best.
It's an effective scheduler tool. We're amazed by how it's able to auto-post your content for you, including videos and gifs.
Of course, the downside is that it can't help you auto-post beyond certain guidelines, like how you can't set up the feature for Instagram Stories or images of a certain size. That's a bummer – it would've been the perfect tool if it could do that, but you lose some, you win a lot more.
It's also incredibly worth the price you're paying for (if you're paying at all!), with all its features and its easy-to-use interface.
Overall, we had a great time reviewing Planoly – we were awed at every new feature that seemed to come up without an end.
If you'd like to give it a try, click here to get Planoly with our affiliate link. It doesn't cost you any extra if you use our link, but it'll really help us fund our caffeine runs!